Description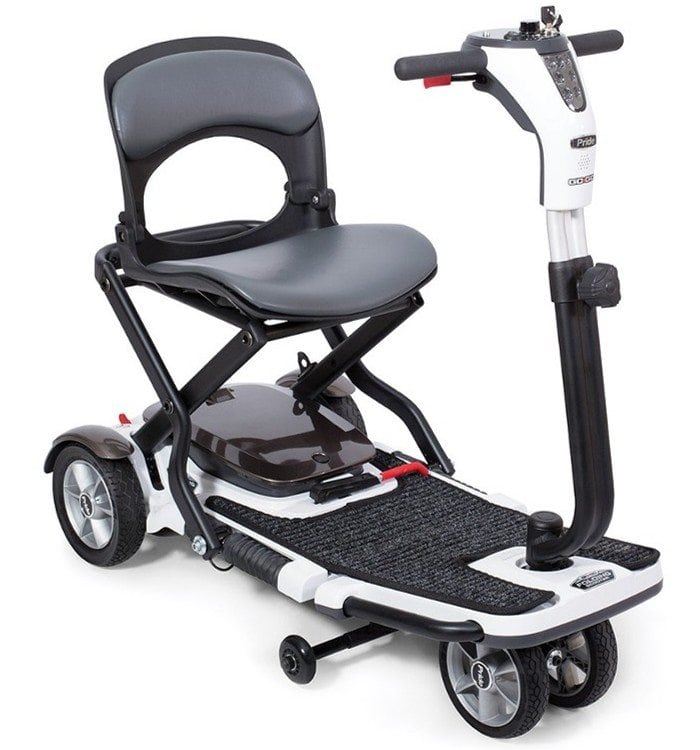 The Pride GoGo Folding Scooter is the one of the most portable mobility scooters available today. The Pride GoGo Folding Scooter is only 51.1 pounds without batteries and folds easily making airline travel easy or your everyday life much easier. The  Pride GoGo Folding Scooter has become increasingly popular due to its 4 point seating system that offers greater stability and its incredibly simple ability to fold into a small compact space. Armrest are now available for the Pride GoGo Folding Scooter, simply fill out the order form below and select the armrest option.
The Pride GoGo Folding travel mobility scooter easily folds into one piece weighing only 60 pounds with flat free tires. The GoGo Folding scooter is extreemly stable and rigid with a adjustable height tiller allowing added comfort to the user.
The GoGo Folding Scooter is easy to handle when folded and can be treated like luggage by simply puling it behind you or beside you.
Award winning design for both portability and ease of use. The GoGo Folding Scooter folds easily into a compact space making it highly portable and is airline and cruse ship approved.

Optional Arm Rest.

The Go-Go Folding Scooter is sleek, stylish, and extremely easy to operate, making it the perfect travel mobility scooter choice.
The ultimate compact, foldable travel scooter.
Ready for Pride GoGo Folding Scooter and easily folded, the 4-wheel Go-Go®
 

Folding Scooter is perfect for the active lifestyle.
Offering great performance indoors and out at a maximum speed of 4 mph and a range per charge of up to 12.5 miles, the Go-Go Folding Scooter provides a comfortable and convenient ride.
It is a super portable space saver that adjusts to fit perfectly inside any closet, corner, or vehicle trunk.
Unique folding design

Folds in just three easy steps

Exclusive tiller design

Adjustable tiller

Up to 12.5 miles range per charge

Easy to Pride GoGo Folding Scooter at home, hotels, or airports

Can be stowed upright or laid down

Articulated front end adds greater stability

Front and rear LED lights

Available in sealed lead acid batteries (standard) or lithium-ion batteries (optional)
Model
Go-Go Folding Scooter
Model Number
S19
Front Tires
1.6″ x 7″ sold
Rear Tires
2″ x 8″ solid
Maximum Speed*
Up to 4 mph
Ground Clearance
2.3″
Turning Radius**
32″
Overall Length**
37″
Overall Width of Base**
19″
Seat Type
Compact, Foldable, Gray Vinyl-covered molded plastic, 16×13
Weight**
51.4 lbs without batteries
Battery Weight
12 AH sealed lead acid – 9 lbs. each (2 required)
11.5 AH lithium-ion – 5 lbs. each (1 required)
Battery Requirements
(2) 12 AH (sealed lead acid) or (1) 11.5 AH (lithium-ion)
Maximum Range Per Charge*
Up to 12.5 miles (lithium-ion)
Up to 9.3 miles (sealed lead acid)
Battery Charger
2-amp, off-board (sealed lead acid) or
2.5-amp, off-board (lithium-ion)
Maximum Weight Capacity
250 lbs.
Standard Body Colors
White
Warranty
2-year on frame;

 


18 months on controller;

 


1-year electronic components and charger
GoGo Folding Info
Information Sheet.pdf
Owners Manual
Owners Manual.pdf
Video
pride-mobility-go-go-folding-scooter.mp4
Meeting and Exceeding High Standards for your Peace of Mind.
Your Pride product has undergone thorough product testing to ensure safety, durability and performance.
Our power chairs, scooters and lift chairs are Food & Drug Administration (FDA) approved medical products that require specific testing prior to release for public use.
The testing requirements accepted by the FDA were developed by the American National Standards Institute/Rehabilitation Engineering & Assistive Technology Society of North America (ANSI/RESNA).
The tests are conducted in accordance with the requirements of the ANSI/RESNA Test Standards and complement an additional stringent testing regiment developed by Pride's Research & Development Team.
All products have passed, and in many cases, exceeded test criteria set forth, assuring the high level of quality synonymous with Pride.
Some of the items our testing criteria include are:
Product Stability & Brakes Effectiveness Tests

Fatigue & Impact Strength Verification Tests

Overall Product Performance Verification

Dimensional Requirement Compliance

Product Durability & Reliability Testing

Material Protective Coating Testing Verification

Misuse and Abuse Testing

Ergonomic Verification

Environmental Testing for Adverse Weather Operation Conditions

Electronic Systems Performance and Durability

Chemical and Bio-Contamination Analysis Testing for Toxicity Verification

Cal 117 Flammability Test Compliance for Seating Foam and Fabric Components

UL94VO Flammability Testing for Compliance of Plastic Components

Electromagnetic Compatibility (EMC)